LANI RAMOS – NEW ORLEANS' FUNK ROCK CHICK
Wednesday, May 18th, 2011
May/June 2011 issue
Written by Barry Simms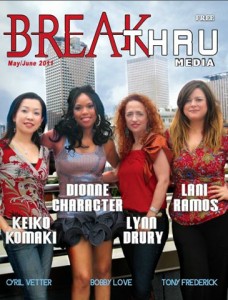 That voice you can't miss from the middle of the street, walking down Frenchman on a Monday night – That's Lani Ramos at the Blue Nile singing with her band Big Pearl & the Fugitives of Funk.  Make sure you've loaded  up with an extra bowl of red beans and rice because you're going to need all the energy you can muster to keep up with Lani, a self described "funk rock chick," and her unique New Orleans fusion of rock, funk, blues, soul, jazz, 80's pop, and even a little hip-hop if you're lucky.  With her amazing vocal range, dominating stage presence, charismatic storytelling personality, and uncanny physical resemblance – the comparisons to Janis Joplin are inevitable, but to peg her as Janis does not do justice to the breadth of Ramos's talents and vocal styles.  Although admittedly Joplin has been a major source of inspiration for Lani, her singing also draws upon influences across the musical spectrum including Elvis, Motown, Pat Benetar, Jim Morrison, Led Zepplin, Joan Jett, Heart, and "all that 1950's American Graffiti type stuff."  Breakthru Media Magazine recently rocked out with Lani Monday at the Blue Nile as she sang and danced her heart out all over (and off) the stage.  Her vocal diversity was on full display opening with screaming Joplin cover "Raise Your Hand," going mellow soul with "Wade in the Water," livening things up with "Chain of Fools," then putting a new rock spin on Nola jazz standard "Bourbon Street Parade," all night mixing in originals like "In the N.O." and "1 Last Cigarette" off her new album Double Faces.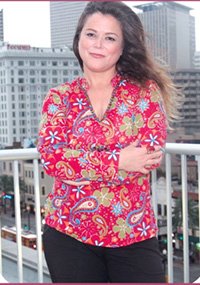 Since she began singing in choirs and talent shows at the age of seven Lani's journey to the Blue Nile has included Puerto Rico, Los Angeles, India, San Francisco and New Orleans, holding virtually every job in the entertainment industry along the way.   Her desire to be an actress at an early age took her to Los Angeles where she turned a gig in the mailroom at 20th Century Fox into five years of production work in music, TV, and film.  It eventually became clear to everyone that Lani's booming voice, and larger than life personality could not be contained behind a desk.  She left L.A., traveled to India, and upon returning bought a one-way ticket to the Crescent City, arriving on her birthday in 1999.  "My first week here changed my whole life," says Ramos, which included an unbelievable chance to meet and sing for Fats Domino, a day that Ramos still draws inspiration from.  Her love for New Orleans hasn't changed, despite having suffered serious illness from living with black mold and relocating to San Francisco for a short while after Katrina, "The feeling of freedom in New Orleans is amazing, but really I chose to stay here for the people, that real feeling of township, you can't get that anywhere else."
In the last 12 years Ramos has paid her dues "and then some," she smiles through her unforgettable laugh – from karaoke and open mic nights to cover bands and Janis Joplin tributes, down Decatur, Bourbon, and Frenchman – Lani has held regular gigs "and been kicked out of," she adds with a bigger laugh, just about every venue in New Orleans.  Beside her obvious favorite the Blue Nile, which after being traditionally closed on Mondays recently re-opened its doors just for Lani, she also rattles off d.b.a., Tipitina's, and the Maple Leaf  amongst other local spots that remain her favorites.
Ask anyone who has had the privilege of playing with Lani and they will tell you despite her hilarious personality she is extremely dedicated, disciplined, and professional – something she credits to growing up an athlete and years of working in L.A. studios, "getting her butt kicked."  Lani admits that "To be a successful singer you have to learn to be very humble and self-absorbed at the same time."  Her advice for next generation of rock chicks trying to make it in New Orleans – "practice, practice, practice!"  "You'll get more recognition through practice than any promotion or advertising," she says, "Always stick to your own standards and convictions.  Don't let others bring you down.  Keep beating your own drum and stay positive!"  Lani keeps herself centered by having a having a close relationship with God and having spent a lot of time in the St. Aug choir, kitchen, and gardens.  Ramos's current work in the community also includes being an advocate for information on black mold and organizing a Memorial Day weekend second line for all EMT's and First Responders to Katrina and the B.P. oil spill.
As if she's not busy enough already, Lani has also been working to get funding for her pilot T.V Show Yeah You Rite! which she describes as "A Dean Martin meets Carol Burnett" music and comedy variety show based on New Orleans culture.  Hear her voice and you'll never forget her, take the time to talk to her just once at set break or as she's passing around the hat and she'll never forget you.  Lani Ramos – New Orleans' very own funk rock chick.
NOTE: Due to the current flood situation in Louisiana and our surrounding neighboring states, the 2nd Line for First Responders will be postponed until mid-summer. Please check back here for future updates.