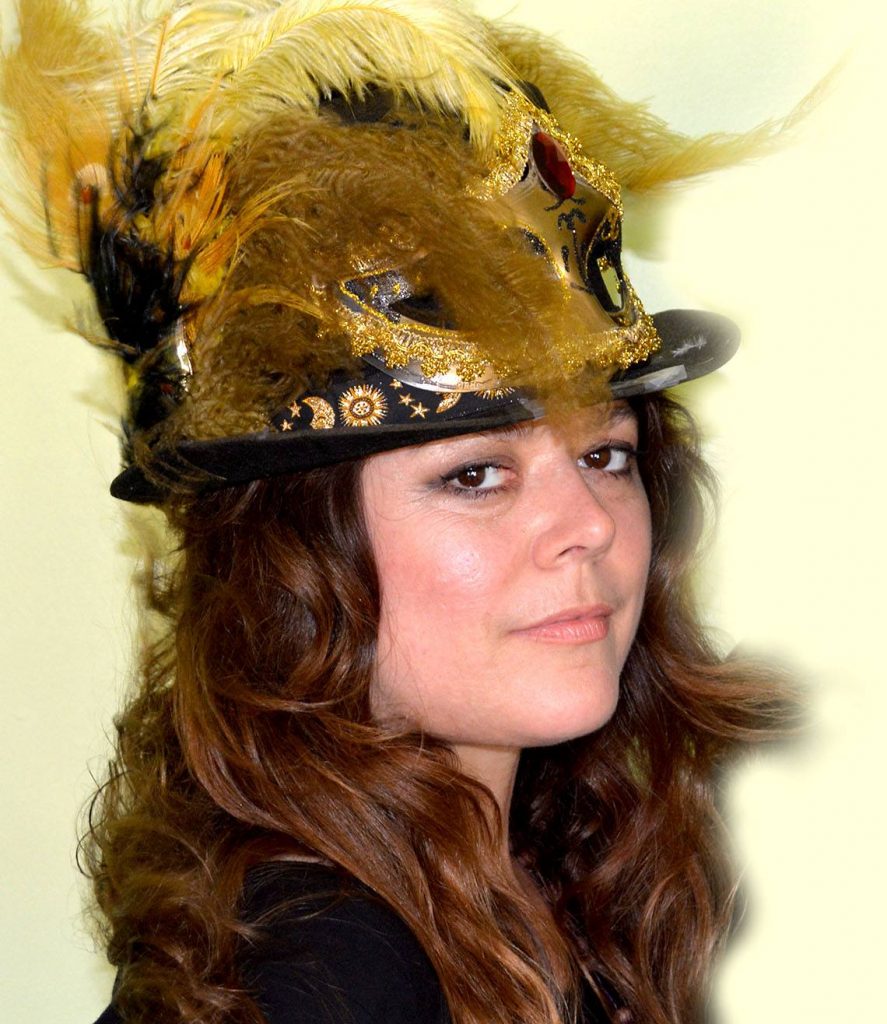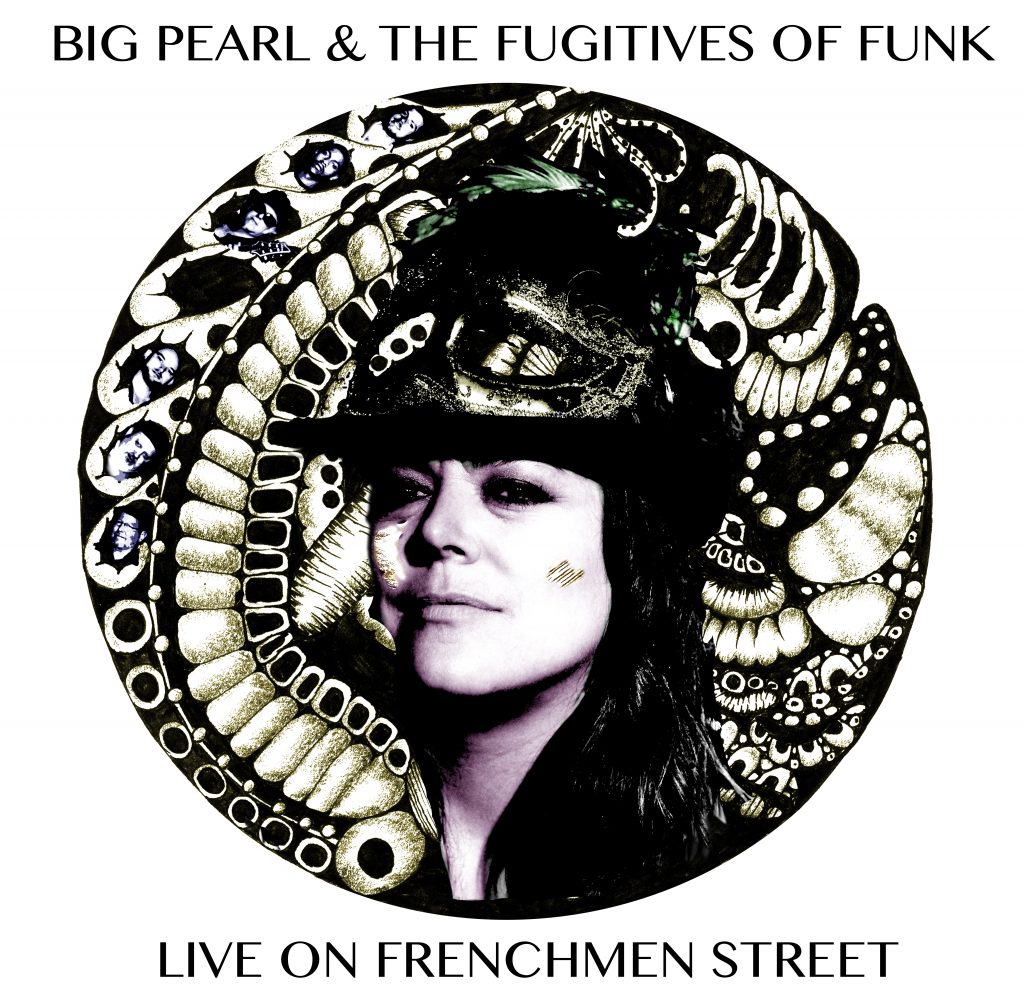 Artist: Big Pearl and the Fugitives of Funk
Album: Live on Frenchmen Street
Release Date: November 14, 2014
Website: www.bigpearl.com
Email: bigpearlnola@gmail.com
Phone: 504.909.0149
Big Pearl & the Fugitives of Funk are back, throwing down an impressive follow up to 2012's 'Double Faces' Album with 'Live on Frenchmen'. This record digs a little deeper than it's predecessor in a way that the raw energy and overall intensity from their live performance perfectly illustrates the true grit, spirit and power of the city of New Orleans.
Ringleader Lani Ramos continues to push her southern blues/rock formula. Once again she demonstrates her impressive range of vocal styles, always taking influences so varied that pinning her down to just a few doesn't come close to doing her justice. But for argument's sake, let's lend a nod to Janis Joplin, Grace Slick, Jim Morrison, Robert Plant. Her lyrics paint an accurate picture of her city, and this city is as diverse as they get.
Not only are there musical influences that consistently present themselves throughout the performance, there is also an incredible stage presence that comes through even on an audio CD. Tina Turner, James Brown, and even Elvis have all helped Lani tear it up on stage and she looks good while doing it. This is definitely a band that will get you moving along with them in your headphones or in the club.
This brings up the issue of live recordings in general. Live albums can be a hit or miss. Sometimes you have too much crowd, too little rock. Sometimes it's quite the opposite – with the final mix sounding like a demo of an album with a few bits of applause and screaming between tracks. As far as this record, I think it's safe to say that every one of the Fugitives are on point, and the mix is definitely where you want it. It sounds live. The playing is top notch and the band itself keeps loose while maintaining a tight ship. It's got attitude. It also feels quite rebellious. It's got the 'ol DIY New Orleans aesthetic, controlled chaos. That's a good thing. Collaboration. Improvisation. In a matter of seconds they are able to break it down to some of the most subtle, calming arrangements you could ask for, but immediately pick it up like nothing ever happened. What comes next, you never know. The coolest smokiest jazz moments properly segued into a nice backbeat complimented by the horns, then straight into a Rock and Roll tune on to Blues and even a bit of Hip Hop for a moment.
Whether you've been following these guys for a while or have just come across their work. This one is definitely a great representation of the talent and culmination that the band shares as well as the intensity and heart that fuels the Big Pearl & the Fugitives of Funk.
Track List
1. Chicken
2. In The N.O.
3. Wade In The Water
4. Booty In The Big Chair (Feat. Blac Sol)
5. Hey Pockey Way (Feat. Big Chief Alfred Doucette)
6. Raise Your Hand
7. Born To Lose
8. John The Revelator
9. Indigo
10. Conversation Town (Feat. Blac Sol)
11. Big Brass Bed
Critics said…
Where Y'at? CD review, Big Pearl Double Faces, March 2012
"…Ramos is a cauldron of raw energy and seismic power as she unleashes her vocals in a rough, no-holds-barred style. Right from the open track, 'Shake that Junk' you know you're in for a wild ride… She pours out her angst and raw emotions in a frenzy that grips you by the gut and doesn't let go…"
Offbeat Magazine CD review, Big Pearl Double Faces, December 2011
"1 Last Cigarette is the albums high point, the place where her influences are internalized and a part of Ramos' own art."
San Francisco Examiner 'Who's In Town Today', January 2006
"…A fixture on the New Orleans music scene prior to her Hurricane Katrina & her precipitated move to California playing at Biscuits and Blues…"
Louisiana Music Commission, online CD review, Scoot Boogie Baby, May 2005
"…an ambitious singer whose energy and soul comes through…"
Port Arthur News 'Cover Story Birthday Bash', January 2004
"Lani Ramos took the stage performing hits of Janis Joplin during the 17th annual Janis Joplin Birthday Bash… Civic Center in Port Arthur, Texas.
Biography 2011-2014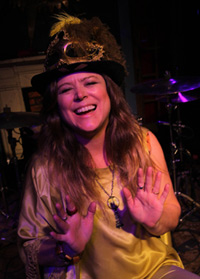 Like all things "New Orleans", the sound of our music is unique. Lani Ramos, founder of her rock & roll bands and latest incarnation Big Pearl now called, Big Pearl & the Fugitives of Funk (BP&TFOF), works with an outstanding brass section, solid percussionists and a rock-hard lead guitar. In Breakthru Media magazine, Barry Sims writes, "Media Magazine recently rocked out with Lani at the Blue Nile as she sang & danced her heart out all over (& off) the stage. Using her body as an instrument, Ramos is a high energy force on any stage, & writes original music while putting her own stamp on classic rock".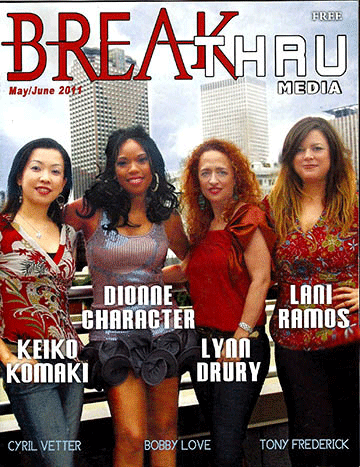 Sims goes on to say,"She is extremely dedicated, disciplined, and professional…" Lani Ramos continues to be a staple on Frenchman Street Clubs since 2002. She is a member of the Musician's Union and Screen Actors Guild. Ramos, with a mezzo-soprano voice and 3 ½ octave vocal range, hails from Los Angeles but has called The Big Easy home for fifteen years and thanks her great great grandfather's spirit who was born in Louisiana for bringing Ramos back to New Orleans. "The feeling of freedom in New Orleans is amazing, but… I choose to stay here for that real feeling of township and spirit…you can't get that anywhere else."
Within the first year of her arrival, she was the featured vocalist with the SUNO orchestra at the New Orleans Jazz Festival 2001, recorded and sang backing and lead vocals with Dave Sharp of the 80's rock band, The Alarm, and also was a featured performer at The TriCou House on Bourbon Street.
Ramos has produced three CDs since moving to New Orleans in 2000. The first, In Loving Tribute, 9.11.01, 
was distributed exclusively by Ramos to the first responders of 9/11 in NYC. Offbeat Magazine's Robert Fontenot said, "Ramos' original song, Arms of Heaven, perfectly encapsulates the reflective quiet and resolve that the country demonstrated in the hours and days following the tragic event."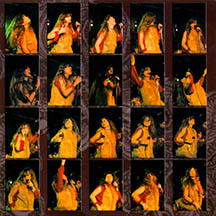 Her second CD, Scoot Boogie Baby's, Lani Ramos, contains original songs and was created to sell at the Janis Joplin Tribute Show at the Port Arthur Texas Civic Auditorium in 2004.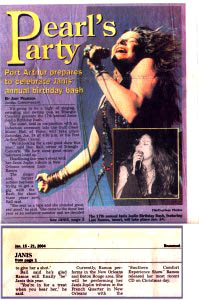 The 17th Annual Janis Joplin Birthday Bash and Gulf Coast Music Hall of Fame Awards. Ramos shared the stage with Archie Bell, Frogman Henry, Jive'in Gene and Lil Fats' singing the Janis Joplin songbook.
The Louisiana Music Commission reviewed the CD: "…her voice, music, style and sound are a… mix that does sound like Janis, and it's pretty good stuff, too…"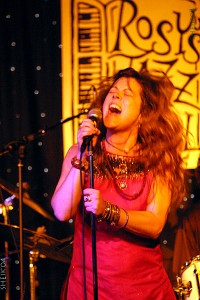 Later, Ramos would go on to share a stage at Rosy's Jazz Hall with Big Brother & the Holding Company and John Sinclair in a reunion of sorts for the two psychedelic rock 60's acts. The two bands haven't performed together since 1967 and is reunited by Ramos for one night of legendary music over New Orleans' Jazz Festival 2004 promoted by MotherShip Entertainment. It was an incredible show!
Temporarily displaced for ½ a year in California after Hurricane Katrina due to injury, Modesto Bee Newspaper Ramos landed on her feet with regular weekly gigs at the famed Biscuit & Blues music club in San Francisco.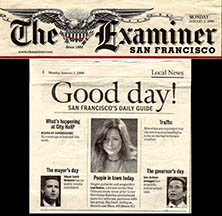 The San Francisco Examiner promoted her appearance at the club, calling Ramos "… a fixture on the New Orleans music scene…" Newspaper write-ups followed in the Modesto Bee, telling the story of Ramos' evacuation and relocation from the city. "She began recording and earned gigs at clubs throughout the city, including world-renowned Tipatina's…" 
Ramos returned to New Orleans and was in immediate demand and booked for weekly shows at the Bourbon Orleans Hotel bar room, Snook's. Simultaneously, the Frenchmen Street clubs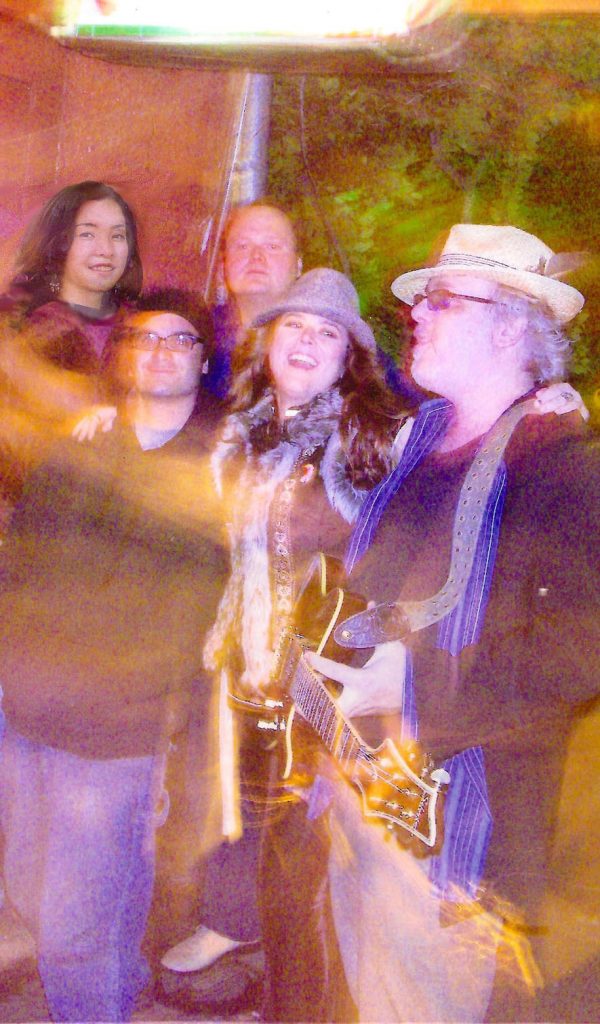 Apple Barrel brought her back weekly and later that summer, she performed at d.b.a. With guitarist Michael Wheat, Ramos wrote a whole new body of work containing ten original songs and credited as the record's producer called Big Pearl Double Faces. Released as a downloadable album only through CDBaby! by Flying Colors Prods., out of Los Angeles in 2010, Ramos would later release it as a deluxe addition adding new song outtakes in a physical CD release in 2012. Recorded in New Orleans, mixed in San Francisco and New Orleans, the album was mastered in Ojai, California by famed  engineer Doug Dax in his studio The Mastering Lab. Sax is best known for mastering the Led Zeppelin Albums. It features Michael Wheat as writer/guitarist, Jimbo Scott on bass, Keiko Komaki on keys and Adam Coolsat on Drums. Continuing to be a staple on Bourbon Street, Big Pearl opened a new music venue, MyBar @ 635 Bourbon. Playing three nights a week with Ramos was mainstay Brandon Brunious of New Orleans musical lineage starting on bass and switching to guitar over their two year stint. Ramos and Brunious together performed songs from the upcoming release off Double Faces and wrote new songs building a new record.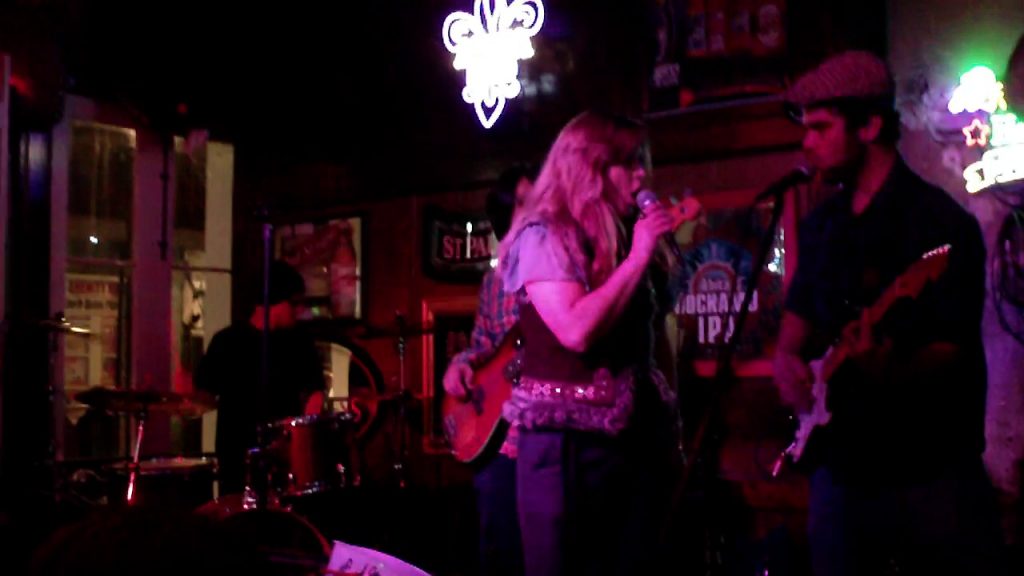 The band's CD is available online at www.bigpearl.com, Amazon.com, CD Baby and iTunes as a downloadable album. In the summer of 2010 Ramos visited Paris Radio and Nova Radio stations in Paris, France dropping off Double Faces to various DJs. Afterward, Ramos traveled and met up with other New Orleans artists in Livorno, Italy jamming to the music as a featured vocalist with Lynn Drury and famed Italian guitarist Roberto Luti  at the Jazz Café.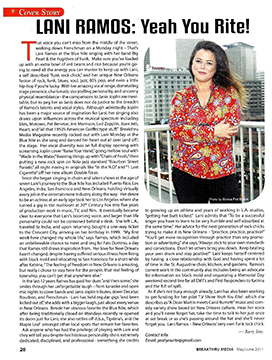 Gracing the cover of the May/June 2011 issue of Breakthru Media magazine, Ramos is a self-described funk rock chick.– Breakthru Media goes on to say, "Joplin has been a major source of inspiration for Lani…" With her amazing vocal range, dominating stage presence, and charismatic storytelling personality…the comparisons to Janis Joplin are inevitable, but to peg her as Janis does not do justice to the breadth of Ramos' talents and vocal styles…her vocal diversity was on display…mixing originals like In The N.O. and 1 Last Cigarette from her new album, Double Faces."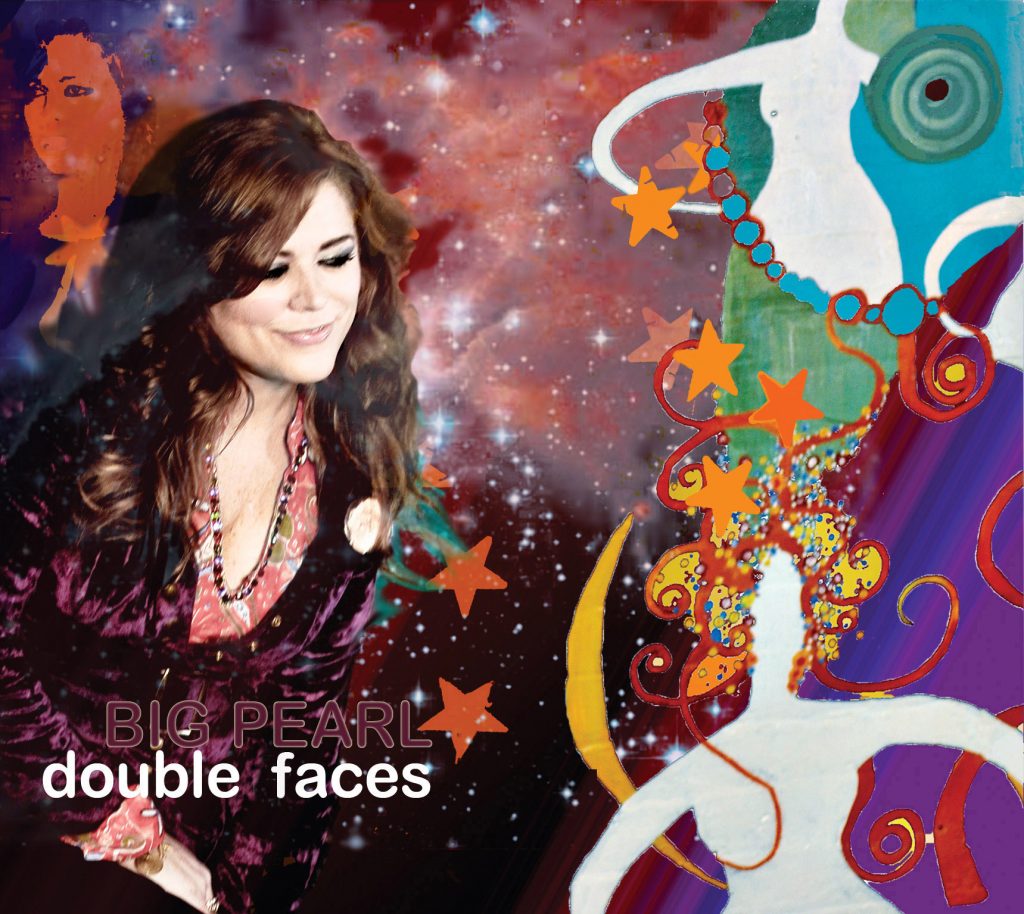 OffBeat Magazine's Alex Rawls says: "she taps into Patti Smith's serrated, mannered vocal attack…traces of Stevie Nicks in her prime…"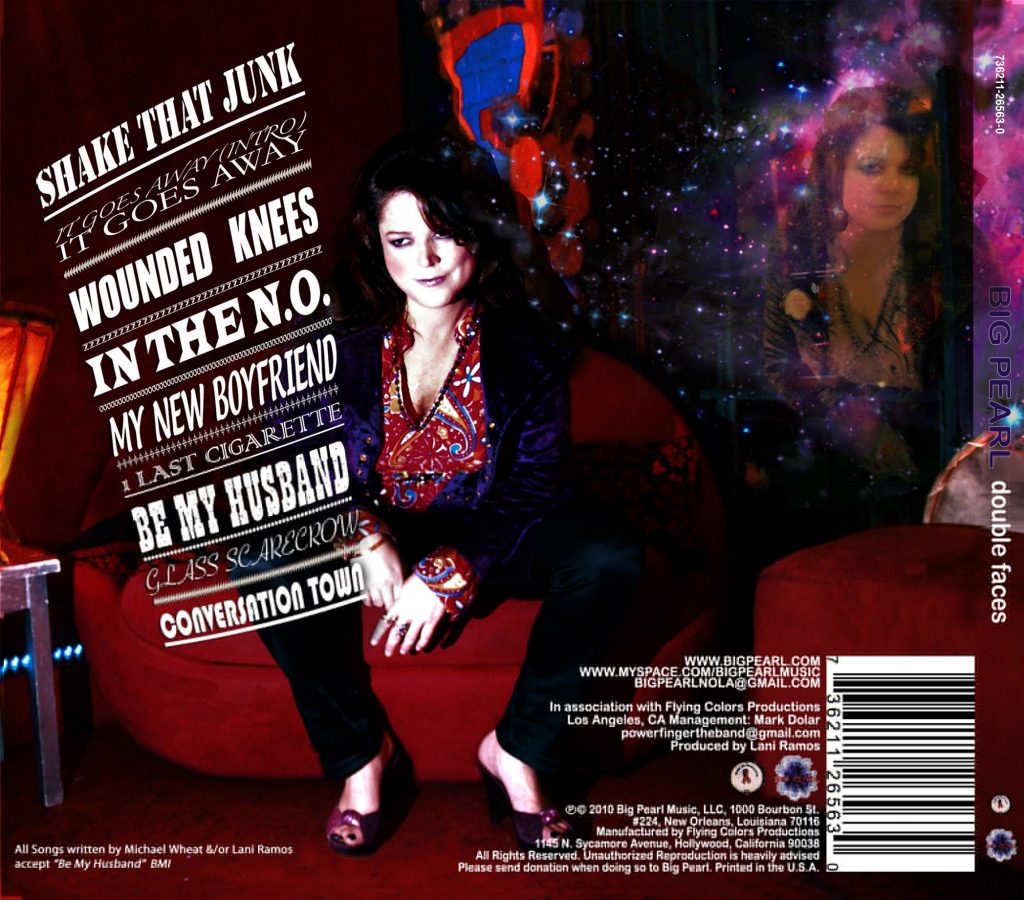 In Where Y'at, Dean Shapiro says of her singing: "Ramos is a cauldron of raw energy and seismic power as she unleashes her vocals…"
Early 2012, Ramos again traveled to Europe, dropping more copies of Double Faces to Paris Radio and Nova Radio stations in Paris, France and moving on to Liverpool, England, performing a gig with a local band at the Victoria Pub and dropping her CD at Liverpool Radio.
After that albums' success, Ramos has now issued Big Pearl Double Faces Deluxe Edition which includes six bonus tracks exclusively sold at New Orleans area record stores Louisiana Music Factory, Peaches and at Big Pearl gigs.
Currently September 29, 2014 and hot off the presses, Ramos produced her 5th title of mostly original music with co-writer Michael Wheat titled Big Pearl & the Fugitives of Funk Live On Frenchmen Street, featuring Big Chief Alfred Doucette, Blac Sol and more. Also, Ramos and Doucette are together again and collectively developing another project for a new show for a 2015 tour. Super busy these days BP&TFOF are gigging Wednesdays at Club Bamboula's with Doucette as the band's permanent guest-star. Together with a 9 year friendship, Doucette and Ramos have paired up and developed a lasting professional partnership. As if that isn't enough, Ramos is flexing her variety skills and will be starring in a live variety show a la dinner theatre with Doucette, Treme Brass band, Al Carnival Time Johnson and many others at The Frenchmen Street Theatre beginning after Mardi Gras 2015. The show is Yeah You Rite! LIVE and is a take-off from Ramos' weekly television show, Yeah You Rite! which airs locally on Cox Communications Channel 99.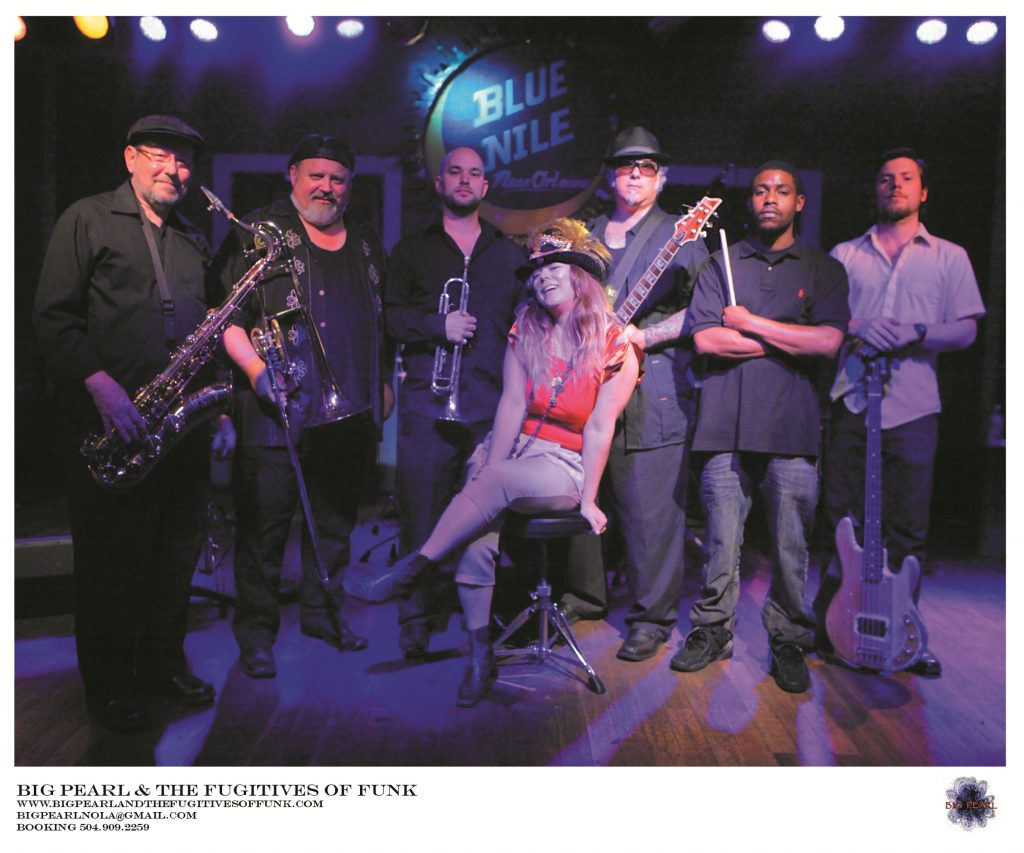 BIOGRAPHY 2011
Lani Ramos, lead singer of her band, Big Pearl The & Fugitives Of Funk (BP&TFOF), moved in the summer of 2000 from Los Angeles, CA, to New Orleans, Louisiana (NOLA) and is now a premiere singer of original NOLA rock & roll. A member of the Musician's Union and Screen Actors Guild (SAG), Ramos a.k.a BIG PEARL has always maintained the name is a band name.
With a  Mezzo-Soprano vocal range, Ramos writes, co-writers original songs of her own and with counter part and lead guitarist, Michael Wheat. In the recording studio Ramos is credited in coming up with original lyrics for back-up parts on independent projects right on the spot while singing and arranging the songs. Her credits include duet/back-ups with Dave Sharp of The Alarm, LOVE UNDERSTANDING, Rudy Mills Caribbean Funk, SAINTS IN THE POCKET and New Orleans artists Johnny J &The Hitmen, Big Chief Alfred Doucette, Mike Hood and Billy Ding & The Hot Wings. Before forming BP&TFOF, Big Pearl credits include opening for New Orleans notable acts like Earl King, Kermit Ruffins, Bonerama and Frankie Ford. Over the years Ramos' solo credits include back-up performances with Frankie Ford at Tipitina's, James Andrews & the Crescent City All-Stars and Chili Groove with the Southern University of New Orleans Orchestra (SUNO) at New Orleans Jazz & Heritage Festivals. NOLA has no shortage of private parties and Ramos has enjoyed living room sing-a-longs with the great Fats Domino, Father Jerome LeDoux and Dr. John.
Since 2000, Ramos adds to her arsenal most all the clubs on Bourbon Street either with her band or as a gun for hire at clubs Tree Cou House '01-'03, Funky Pirate '04, Tropical Isle '04-'11, Snooks Bar '06, Krazy Korner '04, The Old Opera House '04-'07, Howl At The Moon '04, The Red Rhino '02 and a weekly 3-night stint at My Bar, 2008-2010. In 2001 Ramos' first single ARMS OF HEAVEN on compilation In Loving Tibute 9.11.01, was reviewed in Offbeat Magazine as the 'quintessential song illustrating feelings over questionable tragedy'. Through the years Ramos has performed regularly in Frenchmen Street music venues like Checkpoint Charlie's '00-'03, Hookah Café '03-'04, Blue Nile '02-'11, Café Brazil '03-'06, Apple Barrel '04-'10, Ray's Boom Boom Room '07, Café Negril 2007, Bicycle Michael's '01, d.b.a. 2006, Lazziza's '07-'08 and The John '03-'09. Off-shoot venues include Acadian Beer Garden 2001, Wit's Inn 2001, Howlin Wolf 2001, Silky O'Sullivan's 2002, Kim's 940 '03-'04, Bada Bing's '03-'04, Gennifer Flowers Kelsto Club 2005, Melvin's 2004, The Hard Rock Café Dead Rockers Brunch 2004, Tipitina's '03-'05, The Deck Bar 2004, Kajun's Pub '06-'07, Bud Rip's 2007, Turtle Bay 2009 and The Maple Leaf 2008.  One of many career highlights is performing the Janis Joplin segment at the 17th Annual Janis Joplin Birthday Bash & Gulf Coast Music Hall of Fame 2004 awards show in Port Arthur, TX where Ramos shared a stage with Archie Bell, Frogman Henry and Jivin' Gene. Ramos appeared on local news channels promoting her segment at the bash as the "Janis chick" and wound up selling out of her debut solo album, Scoot Boogie Baby's, Lani Ramos. Consequently, Ramos received write-ups in various local newspapers, like the Beaumont Journal, to welcoming reviews. With an in-store performance at Louisiana Music Factory back in New Orleans, Ramos received wonderful accolades online and was put into rotation on New Orleans public radio station, WWOZ 90.7 FM. From there more write-ups ensued from Biz Magazine, Louisiana Music Commission, and www.louisianamusic.org.
In 2005, Ramos joined a newly formed horn band where Michael Wheat was the lead guitarist. Big Pearl with Jake Legg & The Fugitives Of Funk opened regularly for Kermit Ruffins on Saturdays which started the "opening band" idea to the Blue Nile booker and owners because of its success. The band eventually received their own headliner slot weekly Tuesdays at the club. Up Frenchmen Street at Apple Barrel on Monday nights, Ramos cultivated an old time country/rock blues show singer/guitarist Ken Swartz. The band played sometimes until 4am with musicians sitting in all night long until Katrina. Meanwhile blown away from NOLA into San Francisco California, Ramos landed on her feet with regular weekly gigs at famed Biscuits & Blues music club. More newspaper write-ups followed in the Modesto Bee and San Francisco Examiner. In the Examiner Ramos is pictured between S.F. mayor Gavin Newsom and California governor Arnold Schwarzenegger on page 5, 'Who's In Town Today', advertising and promoting her shows in the city as a bluesy New Orleans singer.
Returning to NOLA, Mardi Gras, 2006, Ramos reunited with guitarist Michael Wheat and went on to co-write with Wheat 10 new original tunes calling the album BIG PEARL DOUBLE FACES. Ramos' self–produced New Orleans rock & roll album has songs with funky horns, organ and classic piano, and others, with pop/rock flavors. 3 years later the album was released unmastered at LA Music Factory as a beta copy. The following year the album went on to be mastered and released through Flying Colors out of Los Angeles as a downloadable album and is on sale at CD Baby, iTunes, Amazon.com & www.bigpearlandthefugitivesoffunk.com.
Currently, at the Blue Nile, BP&TFOF perform a weekly show on Monday nights playing songs off the album Double Faces. Fans enjoy originals, like, SHAKE THAT JUNK, IN THE N.O., and 1 LAST CIGARETTE, and also, with brand new originals, BIG BRASS BED, BOOTY IN THE BIG CHAIR and BORN TO LOOSE. Ramos is also a writer/producer/star of the band's music video "Shake That Junk" and television writer/producer/director/star of her own musical/comedy/variety TV show, YEAH YOU RITE! The show airs locally in the New Orleans area on New Orleans Access Television (NOA-TV), Channel 99 Cox Communications, Thursdays, 1:30 a.m. & p.m. Ramos showcases her skills not just in singing and dancing, but in sketch comedy too, with friends that are also entertainers. Big Pearl &The Fugitives of Funk are expanding their live shows with bookings around town and around the Southern basin coming up in 2011 & 2012.