Press Photos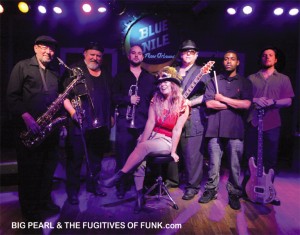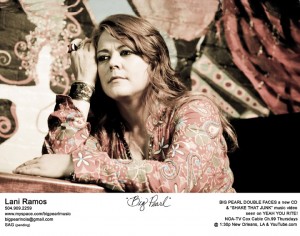 Band Credits
Lani Ramos – Vocals
Michael Wheat – Guitar & Vocals
Josh Reppel – Bass
Terrance Houston – Drums
Mark Levron – Trumpet & Vocals
Butch Gomez – Saxophone
Rod Duncan – Trombone
Biography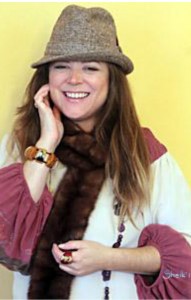 Like all things "New Orleans", the sound of our music is unique. Lani Ramos, founder of her rock & roll horn band Big Pearl & the Fugitives of Funk, works with an outstanding brass section, solid percussionists and a rock-hard lead guitar. In Breakthru Media magazine, Barry Sims writes, "Media Magazine recently rocked out with Lani at the Blue Nile as she sang and danced her heart out all over (and off) the stage."    Using her body as an instrument, Ramos is a high energy force on any stage, and writes original music while putting her own stamp on classic rock. Sims goes on to say, "She is extremely dedicated, disciplined, and professional…" Lani Ramos continues to be a staple in both Bourbon and Frenchman Street Clubs. She is a member of the Musician's Union and Screen Actors Guild. Ramos, with a mezzo-soprano voice and 3 1⁄2 octave vocal range, hails from Los Angeles but has called The Big Easy home for twelve years. "The feeling of freedom in New Orleans is amazing, but… I choose to stay here for that real feeling of township…you can't get that anywhere else."
Within the first year of her arrival, she was the featured vocalist with the SUNO orchestra at the New Orleans Jazz Festival 2001, recorded and sang backing and lead vocals with Dave Sharp of the 80's rock band, The Alarm, and also was a featured performer at The TriCou House on Bourbon Street.
Ramos has produced three CDs since moving to New Orleans in 2000. The first, In Loving Tribute, 9.11.01, was distributed exclusively by Ramos to the first responders of 9/11 in NYC. Offbeat Magazine's Robert Fontenot said, "Ramos' original song, Arms of Heaven, perfectly encapsulates the reflective quiet and resolve that the country demonstrated in the hours and days following the tragic event."
Her second CD, Scoot Boogie Baby's, Lani Ramos, contains original songs and was created to sell at the Janis Joplin Tribute Show at the Port Arthur Texas Civic Auditorium in 2004. The 17th Annual Janis Joplin Birthday Bash and Gulf Coast Music Hall of Fame Awards was a complete success. Ramos sharedthestagewithArchieBellandFrogmanHenryforthatperformance. TheLouisianaMusic Commission reviewed the CD: "…her voice, music, style and sound are a… mix that does sound like Janis, and it's pretty good stuff, too…"
Temporarily displaced for 1⁄2 a year in California after Hurricane Katrina due to injury, Ramos landed on her feet with regular weekly gigs at the famed Biscuit & Blues music club in San Francisco. The San Francisco Examiner promoted her appearance at the club, calling Ramos "… a fixture on the New Orleans music scene…" Newspaper write-ups followed in the Modesto Bee, telling the story of Ramos' evacuation and relocation from the city. "She began recording and earned gigs at clubs throughout the city, including world-renowned Tipatina's…"
Returning to New Orleans, Ramos was in immediate demand and was booked for weekly shows at the Bourbon Orleans Hotel bar room, Snook's. Simultaneously, the Frenchmen Street clubs Apple Barrel brought her back weekly and later that summer, she did one show at d.b.a. With guitarist Michael Wheat, Ramos wrote a new body of work containing ten originals and is credited as the albums' producer, calling it Big Pearl Double Faces. Recorded and mixed in New Orleans, the album was mastered in Los Angeles and released through Flying Colors out of L.A, 2010. Continuing to be a staple on Bourbon Street Big Pearl opened a new music venue, MyBar @ 635 Bourbon, playing three nights a week, performing original music off their CD and selling Double Faces to a world-wide audience. The band's CD is available online at www.bigpearl.com, Amazon.com, CD Baby and iTunes as a downloadable album. In the summer of 2010 Ramos visited Paris Radio and Nova Radio stations in Paris, France and dropped Double Faces to various DJs. After that Ramos traveled and met up with other New Orleans artists in Livorno, Italy and jammed as a featured vocalist at the Jazz Café.
Gracing the cover of the May/June 2011 issue of Breakthru Media magazine, Ramos is a self- described funk rock chick . Breakthru Media goes on to say, "Joplin has been a major source of inspiration for Lani…" With her amazing vocal range, dominating stage presence, and charismatic storytelling personality…the comparisons to Janis Joplin are inevitable, but to peg her as Janis does not do justice to the breadth of Ramos' talents and vocal styles…her vocal diversity was on display…mixing originals like In The N.O. and 1 Last Cigarette from her new album, Double Faces."
OffBeat Magazine's Alex Rawls says: "she taps into Patti Smith's serrated, mannered vocal attack…traces of Stevie Nicks in her prime…" In Where Y'at, Dean Shapiro says of her singing: "Ramos is a cauldron of raw energy and seismic power as she unleashes her vocals…"
Early 2012, Ramos again traveled to Europe, dropping more copies of Double Faces to Paris Radio and Nova Radio stations in Paris, France and moving on to Liverpool, England, performing a gig with a local band at the Victoria Pub and dropping her CD at Liverpool Radio.
After that albums' success, Ramos has now issued Big Pearl Double Faces Deluxe Edition which includes six bonus tracks exclusively sold at New Orleans area record stores Louisiana Music Factory, Peaches and at Big Pearl gigs.
Currently, Ramos is flexing her television muscles appearing weekly on her own original New Orleans musical comedy and variety TV show, Yeah You Rite! It airs Thursdays locally at 1:30 a.m. and p.m. on Cox Communications Channel 99.
Music
Players
Lani Ramos – Vocals
Michael Wheat – Guitar & Vocals
Jimbo Scott – Bass
Adam Coolsat – Drums
Steven Walker –Horns
Additional Players
Lynn Drury – vocals
Maggie Haven – vocals, tambourine, shaker
Roberto Luti – guitars
Hubie Vigoroux – brushes, chimes
Jessie Stols – fiddle
Amzie Adams – Dulcimer
Video
Set List
Big Pearl sets can run from 30 minutes to over 120 minutes and range from a showcase of original material and Janis Joplin tribute songs to an all-night Bourbon Street style dance party set.  Live sets move seamlessly between original and cover tunes guaranteed to fire up a classic rock audience.
Big Pearl Originals
Booty In The Big Chair
Shake that Junk
It Goes Away
Wounded Knees
In The NO
My New Boyfriend
1 Last Cigarette
Glass Scarecrow
Conversation Town
Scoot Boogie Baby
Janis Joplin Tribute Songs
Piece Of My Heart
Me & Bobby McGee
Ball & Chain
Turtle Blues
Combination Of The Two
Down On Me
As Good As You've been to This World
Maybe
Try (Just A Little Bit Harder)
Raise Your Hand
Buried Alive In The Blues
Move Over
Cry Baby
Tell Mamma
Get It While You Can
Mercedes Benz
Party Covers
Sweet Home Chicago
Proud Mary
Hide Away
Lady Marmalade (Le Belle)
So What?
Hit Me With Your Best Shot
One Way Or Another
American Idiot
I Love Rock & Roll
I Wanna Be Sedated (80s)
Start Me Up
Mustang Sally
Chain Of Fools
Brown Sugar
Baby What You Want me To Do
Gimme One Reason
Never Been To Spain
Land Of A 1000 Dances
Hard To Handle
Wipe Out
Roadhouse Blues
Crossroads
Party Covers
I Feel Good
In The Midnight Hour
Mustang Sally
Honky Tonk Woman
Crossroads
Rock & Roll
Wild Thing
I Just Kissed A Girl
I Love Rock & Roll
War Pigs
Tide Is High
Santeria
La Grange
Baby What You Want Me To Do (You Got Me Runnin)
Kansas City
Hoochie Coochie Man
Johnny B. Goode
Wasted
Hot & Cold
Green Onions
White Rabbit
Move Over
Love Me Two Times
New Orleans Style Classics
OO Poo Pah Doo
Let The Good Times Roll
Hey Pocky Way
Sissy Strut
Are You Gonna Go My Way
Get Up Off That Thing
Fire On The Bayou
House Of The Rising Sun
Fire On The Bayou
Going To The Mardi Gras
Big Chief
Press Clippings