by A.J. Mistretta • Biz New Orleans • March 2005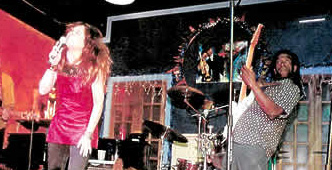 It's a busy Saturday night in the Faubourg Marigny. Groups of club-goers mingle on the sidewalks of Frenchmen airily assessing the sounds emanating from nightspots. At Blue Nile, singer Lani Ramos of Big Pearl takes the stage and begins the slow familiar lament of "Proud Mary". Her sound piques some interest; A few men huddled around the bar make their way toward the stage, and a young couple sways on the dance floor to the measured tones. Suddenly the drummer pounds out the tempo change and Ramos twirls frantically, her long brown hair flying around her, before regaining the microphone to tell about the good job she left in the city.
Actually, Ramos isn't nearly ready to depart that city job. After four years in New Orleans, singing in clubs from Magazine Street to Decatur, She feels things are coming together for her band. She's working on a deal with a technology company to sponsor Big Pearl in upcoming festivals, and the group is also in talks with a talent agent who books high-paying gigs in California.
She says a lot of it has to do with her new onstage partner, guitarist George Sartin. Watching them perform with the two other musicians who round out the group, it's hard to imagine they've only been playing together for four months. "We definitely have a connection." Ramos says.
Ramos came to New Orleans from Los Angeles in 2000. During her first couple years here, she did covers of mostly Janis Joplin hits in tribute performances to the 1960s rock icon whose voice and style her own closely mirror. Slowly she's incorporated other sounds and her own songs into the band's set list.
Growing up in New Orleans, Sartin got his first guitar at age 15 from his mother, a gospel singer who had performed on stage with greats like Sam Cooke and Ray Charles. He spend a lot of his early musical career as a reggae guitarist, despite his interest in classic rock.
It's the mutual affection for rock 'n'n roll that brought Sartin and Ramos together, and it's what they believe will draw them a fan base. They say there's a dearth of "real" rock in the local scene, but nationally the genre is making a comeback even among younger generations. "People know what's good, no matter how old they are," Sartin says. "They want something that lasts."
Sartin and Ramos describe their style broadly as adult contemporary a mix of rock, blues, funk and a little soul. Back at Blue Nile, the crowd seems to buy it. The band belts out a popular Led Zeppelin hit recognizable to most in the club. Soon the dance floor is packed — from a group of teenage girls in feather boas and stilettos to a guy in his 30's practicing body dives. A few blues songs, some original material, more people trickle in from off the street. By the end of the first set, it's a bit hard to maneuver through the club.
Ramos released her first CD in late 2003. She describes sales as "OK", but clearly thinks a Big Pearl album with Sartin will fare better. The two are collaborating on songs and hope to release a CD by the end of the year.
Making a full-time career as musicians still seems distant sometimes. "You can be singing your butt off in this city and still need a day job," says Sartin who works as a plumber and a carpenter.
Ramos, who supplements her income with freelance graphic design work and assistance from her family, says the band is flirting with profitability. She'd like to see the development of a local musicians' union that could help improve pay scales, but Sartin disagrees. In a city chock-full of musical talent, he says, there will always be someone waiting to take a gig another musician gives up.
The only way to reach the Big Time is to find a unique style and make it work, and Big Pearl is on its way to doing that, he says, "I can see us five years from now with a couple records out."
"More than a couple, definitely," Ramos chimes in. "I have a Christmas album I want to do."
He laughs. Sartin shares Ramos' optimism, but another focus for him is setting an example for his 4-year-old son, Daniel, who is already expressing interest in playing in a band with his dad. Would he encourage his son to follow in his footsteps?
"Absolutely, if that's what he wanted to do. Where would I be if my mother didn't encourage me?"