by Brent Synder
Beaumont Enterprise • January 23, 2004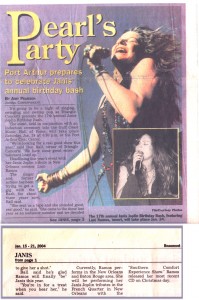 Janis Joplin is coming back to town for her birthday – and Jerry Lee Lewis is coming with her.
Well, not really, but tribute artists will perform as Joplin and Lewis during the 17th annual Janis Joplin's Birthday Bash, celebrating what would have been her 61st birthday, at 6:30 p.m. Saturday at the Port Arthur Civic Center, 3401 Cultural Center Drive in Port Arthur.
Performing as Joplin at this year's bash is New Orleans, La.-based Joplin tribute artist Lani Ramos.
Ramos, founder of the Joplin tribute group Big Pearl, has performed as Joplin in shows like "Soul Sacrifice: A Tribute to the Psychedelic Queen of Rock Miss Janis Joplin" at Silky O'Sullivan's, "Legends of the '60s"at Twi Ro Pa Mills and "Voodoo Brunch" at the Hard Rock Café. She is currently working on her debut album of original material.
Also performing Joplin material at the show is vocalist Laurel Barineau, lead singer with the band Laurel & The Untouchables.
Meanwhile, 19-year-old Mike "Little Killer" Buller will hammer away on piano as Jerry Lee Lewis while sharing the stage with Barry & The Heartbeats and the New Generation Horns.
Other acts on the show include Jivin' Gene Bourgeois, Dickie & The Tornadoes, Joe Barry and Archie Bell.
Joe Barry, known for classic hits like "I'm A Fool To Care," will be inducted into the Museum of the Gulf Coast's Music Hall of Fame during the event.the Gulf Coast's Music Hall of Fame during the event.
Brief birthday girl bio
Born and raised in Port Arthur, Joplin followed her love for the blues and rock music to international stardom in the late 1960s.
Joplin first appeared with Big Brother and the Holding Company on June 10, 1966 at the Avalon Ballroom in San Francisco. She formed her own group the Kozmic Blues Band in late 1969 and the Full Tilt Boogie Band in 1970.
She only recorded four studio albums during her brief career – "Big Brother And The Holding Company" and "Cheap Thrills" in 1968, "I Got Dem Ol Kozmic Blues Again Mama" in 1969 and "Pearl" in 1970.
Her last public performance was Aug. 12, 1970 at Harvard Stadium in Cambridge, Mass. Three days later, she made what would become her last visit to Port Arthur to attend her 10-year high school reunion.
During the month of September 1970, she recorded the tracks for last album "Pearl," the album that would produce her biggest hits "Me And Bobby McGee" and "Mercedes Benz."
On Oct. 4, 1970, Joplin died from a heroin overdose in a Los Angeles hotel room. She was 27.
Related show