Photos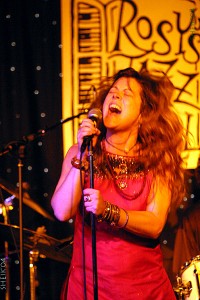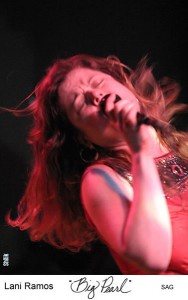 Video
17th Annual Janis Joplin Birthday Bash & Gulf Coast Music Hall Of Fame Award Show
Port Arthur Civic Auditorium, Port Arthur, TX
Music
Combination of the Two
Magic of Love
Down On Me
Bye Bye Love
Women is Losers
Ball and Chain
As Good As You´ve Been To This World
Piece Of My Heart
Try/Tell Mama
Mercedes Benz
Move Over
Me and Bobby McGee
Track Selected
If you are on Internet Explorer, please click here to view the Flash Version –>
Set List
Big Pearl sets can run from 30 minutes to over 120 minutes and range from a showcase of original material and Janis Joplin tribute songs to an all-night Bourbon Street style dance party set. Live sets move seamlessly between original and cover tunes guaranteed to fire up a classic rock audience.
Janis Joplin Tribute Songs
Combination Of The Two
Magic of Love
Women are Losers
Piece Of My Heart
Bye Bye Baby
Turtle Blues
Down on Me
Ball & Chain
As Good As You've been to This World
Maybe
Try (Just A Little Bit Harder)
Raise Your Hand
Buried Alive In The Blues
Move Over
Cry Baby
Tell Mama
Me and Booby McGee
Get It While You Can
Mercedes Benz
Biography
Lelani Ramos, Leilani Lynn Ramos, born a Bay Area California girl, arrived on the New Orleans, LA scene in late August 2000. After growing up in the trenches of Hollywood as a performing artist, Ramos studied acting & voice with some of Hollywood's named acting coaches from Stella Adler to Jeff Corey to Rosemary Butler, vocals. Having been on stage in theatre, choirs, bands, and film/television (SAG) since age 8, Ramos exhausted from a dog-eat-dog society &, embraced by New Orleans soulful spirit, uprooted permanently into the smile of the Crescent City. Upon the week of her arrival Ramos met and began work with Dave Sharp, guitarist of The Alarm, on his solo album. Capturing Sharp's desired sound with her unique voice, Ramos is credited on his album, and in a very short amount of time, acquired steady gigs at Acadian Beer Garden, Funky Pirate(sit-ins with Big Al Carson & EJ & The Electrifying Blues Band), and Check Point Charlie's. In conjunction with her live performances, Ramos began work on a new album of original music.
2001 Jazz & Heritage Festival, Sprint Stage: Ramos along with bassist Chili Groove, were featured artists fronting a couple songs with the Southern University Of New Orleans (SUNO) Orchestra. Spending the summer performing and songwriting, Ramos became a parishioner of St. Augustine Church in the Treme. Baptized by Father Jerome Le Doux, Ramos joined the Soulful Singers Of St. Augustine Church Choir and became a part of the Treme community. Living across from the church for years witnessing and photographing special events at the church & in the neighborhood was an experience never to be forgotten. Especially a treasured memory of Father Le Doux & Ramos playing and singing with Fats Domino over the keyboard at Fats' home while food cooked over all four burners of his stove in the 9th ward. Ramos working on her debut CD changed her focus after 9/11. She produced a benefit show at Howlin' Wolf where Father Le Doux gave an opening blessing that raised enough money with mutual band mates to fund and produce a compilation CD titled Band Of Musicians New Orleans, In Loving Memory 9.11.01. Artists like Kermit Ruffins & The BBQ Swingers, Russell Batiste Orchestra from the Da' Hood, Lynn Drury, Morning 40 Federation, Jeff Naideau, Mike Darby Band, Hoodoo Taxi and many other artists lent their time freely for a New Orleans holiday gift. Ramos manufactured and distributed 500 CDs to NYFD & NYPD stations in NYC where the CD generated a good review in offbeat Magazine, although, "it wasn't created for this intention" Ramos mentions. David Letterman also received 2 CDs and opened his first show after hiatus in January 2002 with 2nd line music with a call and response of 'Happy Monday' between Letterman and band leader Paul Shaffer. Ramos, happy to be home in Nawlin's continued songwriting and dabbled in the occasional Jazz gigs at The Abbey with Flipper, Seva, and Washboard Chaz before playing weekly coveted gigs at Bourbon Street's Krazy Korner and Silky O'Sullivan's. Her rock/blues band, Lani Ramos and The Jivey Jam Band floored tourists and locals alike with her high energy and for real style. The buzz of the band afforded them the opening slot at the Music Maker Relief Foundation Benefit July 2002 at The Blue Nile. The band was privileged to share the stage with legendary New Orleans music master Earl King. During King's performance, Ramos filmed his entire set which could be the last footage ever shot prior to his passing in March, 2003.
Through 2003/2004 Ramos steadfastly worked-up her fan base at Fat City's Bada-Bing's, the Marigny's Kim's 940, The John, Bourbon Street's The Old Opera House, warehouse district's TwiRoPa, and in clubs far out as Baton Rouge. 2004 proved a busy year for Ramos. Ramos performed at The 17th Annual Janis Joplin Birthday Bash & Gulf Coast Music Hall Of Fame at the Port Arthur Civic Auditorium and debuted her solo adult contemporary CD of all original songs, Scoot Boogie Baby's, Lani Ramos. The CD debuted on local Beaumont, Texas news channels NBC and CBS along with the promotion of the Bash & Joe Barry's induction into the Gulf Coast Music Hall Of Fame. At the Hall Of Fame show, Ramos shared the stage with Jive'in Gene and Archie Bell and many others. Ramos sang to 1500 cooing fans signing autographs and sold 500 CDs generating this comment on the Joplin website www.officialjanis.com: "Absolutely the best tribute to Janis I have ever seen 'everything about her is Janis' This girl had people on there (sic) feet.". Back in New Orleans, Ramos debuted Scoot Boogie Baby's, Lani Ramos, with an in-store performance at Louisiana Music Factory along with famed rock 'n blues poet, John Sinclair of MC5. Scoot Boogie Baby's album features Ramos whose "energy and soul comes through" according to a review on www.louisianamusic.org. Performance highlights include benefits, Jeffery La Blanc and Timothea's Siren To Wail with 50s teen idol Frankie Ford ("Sea Cruise") , National Association of Broadcasters (NAB) convention in Las Vegas. A rare opportunity between her connection with Sinclair and Sam Andrew, guitarist, Big Brother & the Holding Company garnered interest from Jared Zeller of Mothership Entertainment and produced a reunion show between Sinclair & BBHC over JazzFest 2004 at Rosy's Jazz Hall that hadn't been seen in almost 35 years. Ramos' band now named, Big Pearl opened the show. Unfortunate for Ramos that an Offbeat reporter fell ill and was unable to attend the show. So it went unreported and unnoticed. However, famed rock & roll photographer Elliot Landy came and snapped dozens of pictures while visiting the city's JazzFest and local photographer, Sheik, snapped even more. The band stayed busy over summertime performing at 3 Ring Circus' Summer Solstice Festival, Block Party For Change (Frenchman street block party for democracy), Hooka Café, Krazy Korner, The Deck Bar, Café Brazil(Peace Benefit). September, Ramos traveled to Amsterdam and performed at the IBC convention and sold CDs to new fans. Her CD can be bought at an Amsterdam record store Plaatboef-Amsterdam. During this time Ramos watched in horror on CNN as the mass exodus of New Orleanians gripped themselves for hurricane Ivan. A prelude to the future. Back in New Orleans Big Pearl made it's mark on hip Frenchman Street. Honored with the "Thanksgiving Mystery Band" booking at the venerable Apple Barrel nightclub, the band also began a run of shows at the Blue Nile opening for Kermit Rufffins where Ramos'original music could flourish.
In early 2005, Big Pearl became a permanent fixture on Frenchman. The band acquired regular opening slots for Kermit Ruffins & The BBQ Swingers before & after Mardi Gras and bi-weekly Apple Barrel and Alley Katz gigs, plus, a special engagement gig Mardi Gras day at Gennifer Flowers' Klesto Club. By winter's end New Orleans business magazine, Biz Magazine, did a feature spot on the band in their March issue. The band booked more performances with conventions, mixers, private parties, in addition, to their regular gigs on Frenchman. During JazzFest 2005, at the Apple Barrel, Big Pearl's sound carried over Frenchman Street that brought atttention to some local heavy weights. They'd come by to listen or sit-in. By summer of 2005 with a growing reputation over the summer, Monday nights at The Apple Barrel became synonymous with Big Pearl and a musician's family affair. Local heavyweights dropped in either to listen, drink or perform during Ramos' show like Henry Butler, Charmaine Neville, Irene Sage, Chief Doucette, Lenny McDaniel, Lynn Drury, Mike Darby, Coco, Mike Hood, Jack Fine, Grayson Capps, Russell Batisite, John Swenson (journalist), Tom McDermott, James Singleton, Carl LeBlanc and the list goes on. Crowds spilled out onto the sidewalk and street to get in a listen of Big Pearl sing'in, sometimes, 'til the break of dawn. Ironically, the band's last gig was a benefit at Café Brazil for the Hurricane Children of Honduras for Mouth Of The South Promotions. In September with a full schedule of gigs, the band booked a premier slot on the Old School Community Stage for New Orleans Inter-Fest Festival at Louie Armstrong Park at Congo Square. October's debut of the band at the desirable music venue d.b.a. was also on the calendar along with Ramos' Birthday Bash at the Apple Barrel. Famed New Orleanian artist Mousie known for her fantasy Mardi Gras nude poster girls ha d commissioned Ramos to be the Halloween 2005 poster girl. Ramos had made her mark as a local thriving talent with continued rise and with many more plans in the works.
On August 29, 2005, 5 years to the date of Ramos' arrival to New Orleans, Hurricane Katrina hit and changed everything for everyone. With fallouts and flooding resulting in the closing of clubs, missing musicians and an injury to Ramos' left hand, Ramos is blown back to her place of origin with waiting parents in Modesto, CA. While recuperating from surgery a local newspaper reporter of the Modesto Bee contacted Ramos and wrote an article of her ordeal. Today based out of San Francisco, CA, Ramos receives the needed medical care for ensuring a full recovery towards her playing guitar again. However, nothing will keep Ramos from performing. Big Pearl played a private Christmas party & wowed the audienceover that by the show's end money popped out of pockets and thrown on satge at her feet. Ramos is already on her way in San Fran. December 17th 2005 will mark her 1st public appearance at the Pig & Whistle. Big Pearl has booked a gig Janurary 2 at Biscuits & Blues and booked weekly gigs starting February. Ramos bounces back as she always does with her quasi new life since the disaster but will forever consider New Orleans her true home and will return as soon as she is able. In the meantime, Ramos will bring the New Orleans funky blues sound with some classic rock and roll to the west coast with that Nawl'ins mojo spirit where ever she goes.
Press Clippings